Tips for Framing Kids' Art
January 05, 2022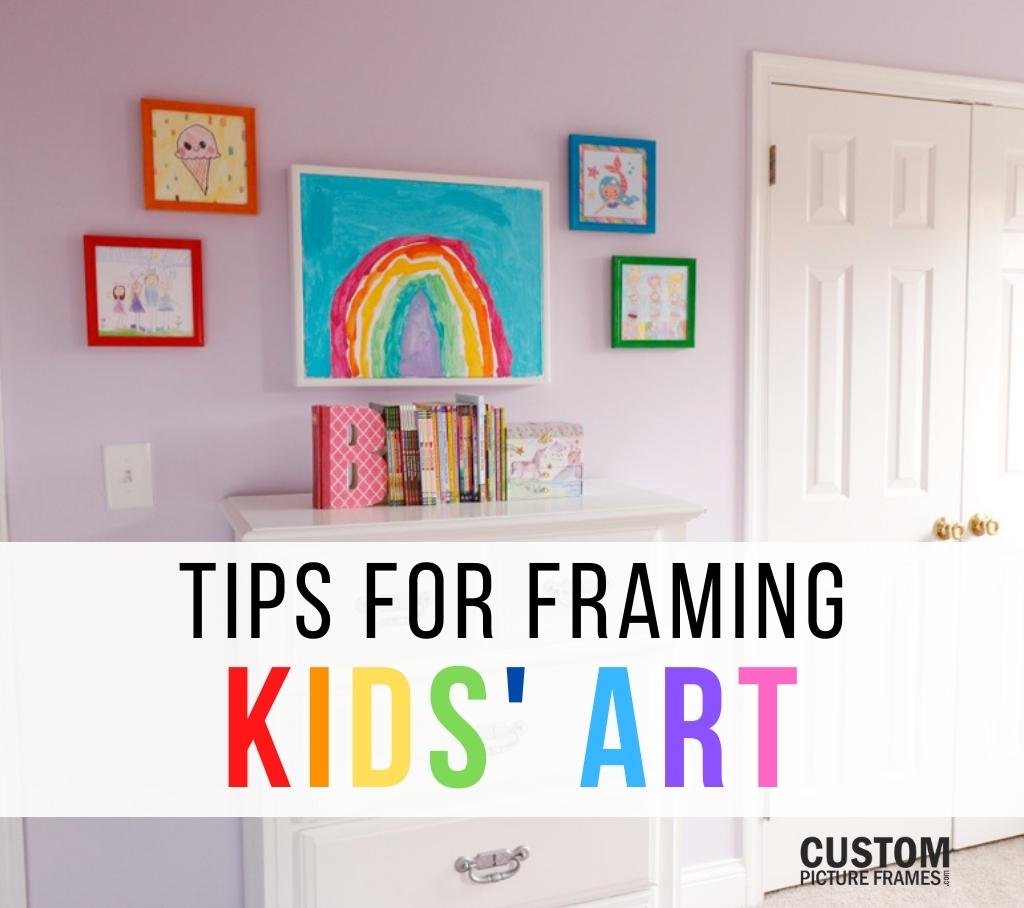 Kids love to express their creativity! That sketch of a family portrait, first attempt to write their own name or adorable drawing of their imaginary world can be so hard to throw away! And while you can't keep EVERY doodle they've ever created, you can certainly pick out a few favorites. We're sharing a few ideas on how to use these physical pieces of your child's imagination as keepsakes, gifts, and home décor with tips to frame kids' art.
First, sift through the pile of artwork you've no doubt collected. Grab your favorites and decide what can be framed easily. Don't be afraid to crop it down to a smaller size to fit into a frame. Too small? Mat the art with patterned paper behind it.
Tip: If any art is too bumpy or wrinkled, lay heavy books on top to flatten them out first.
If the pieces if too dimensional, consider omitting the acrylic front and frame it as is with the dimensional pieces hanging out slightly.
If your child ever attends one of those "paint your own canvas" parties then you are now the proud owner of a painted canvas that needs a frame. Use a canvas frame that attaches with some canvas clips on the back.
When it comes to the arrangement or color choices, consider matching their existing room palette or create a unique one on the wall, like a rainbow design for a little girl!
Looking for more ways to use children's artwork and not throw them all in the trash? Try these ideas:
Use artwork as a card. Fold that paper in half and write your message inside. Drop it in the mail or pass it straight to the recipient.
Photograph their art and turn it into a photo book. Create them by year and watch their artist talents grow, page by page.
Turn them into a puzzle. If the piece of art is a recognizable character or shape, cut it up into a few pieces and turn it into a game. It's the perfect thing to play at a restaurant while waiting for food.
Decoupage something with them. If the artwork is made by very tiny hands and is more abstract than literal, you can rip up pieces of it and turn it into a mosaic or decoupage an item with it.
Gift it to grandma. She'll love it!
Frames featured in this rainbow room setup:
Red- Gannon
Orange – Ginger
Blue – Tallulah
Green – Harlan
---
About The Author
| | |
| --- | --- |
| | Tara Nehil is author of SpotOfTeaDesigns.com, a lifestyle blog sharing home décor, crafts, party inspiration and parenting lessons learned the hard way. Her graphic design background is evident in the home she lives in and styles with her husband of 8 years and 2 young daughters. Follow her creative journey for photo tutorials, printables, budget-friendly decorating tips and ways to celebrate occasions big and small. |