Halloween Skull Art
September 29, 2021
You might have extra cobwebs, fake cemeteries, and creepy jack-o-lanterns displayed OUTSIDE your home this October, but the spooky season calls for Halloween décor inside AND out! Get inspired on one way to make your basic plastic skull a little more fancy with a non-traditional Halloween color palette, shiny gems, and a floral crown. The sleek black façade of our Whittaker frame is a perfect way to contain up this unique piece of pastel Halloween décor which can be placed on a shelf or hung in an entryway of your home.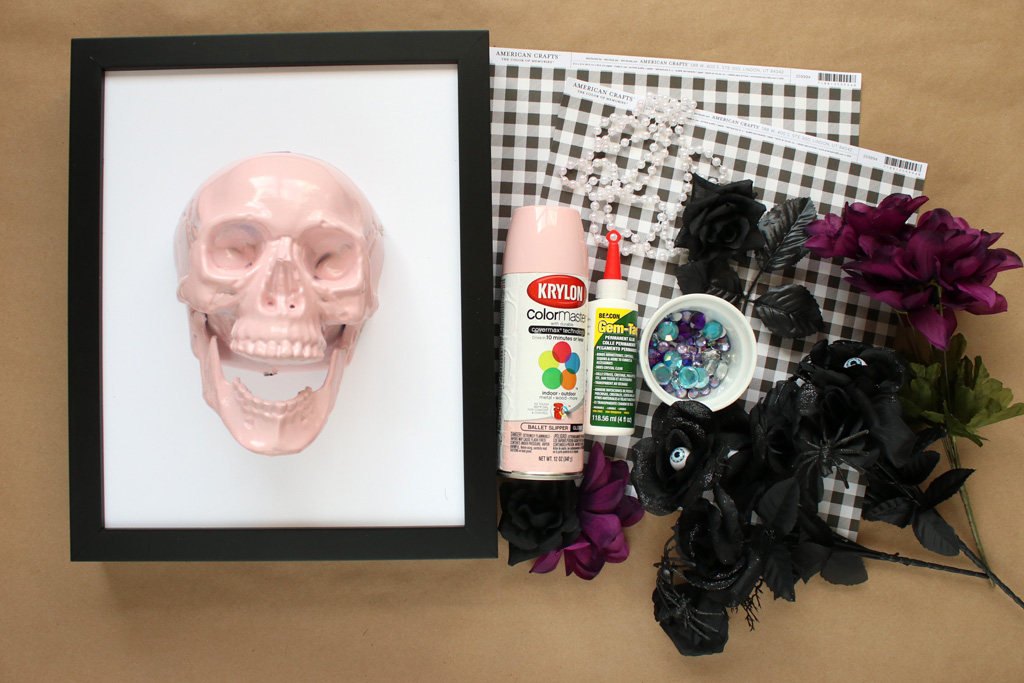 Supplies
Frame (We used our Whittaker)
Patterned paper
Plastic Skull
Spray Paint – Ballet Slipper Pink
Artificial Flowers
Pearls
Rhinestone gems
Hot Glue Gun
Gem Tac adhesive
Fake spiderwebs
First, find a saw and cut the back half of the skull off so you have a flush surface to adhere it to the frame background.
Next, give your boney friend a few layers of pink spray paint and allow it to dry thoroughly.
Remove the backer of the frame and adhere the patterned paper onto the surface.
Adhere your skull onto the backer.
Adhere artificial flowers, leaves, and pearls using hot glue. Add a spider over the eye for a creepy effect! Tip: it's the best to time add black flowers that are pretty sad any other time of the day!
Add gems onto the forehead in strategic spots.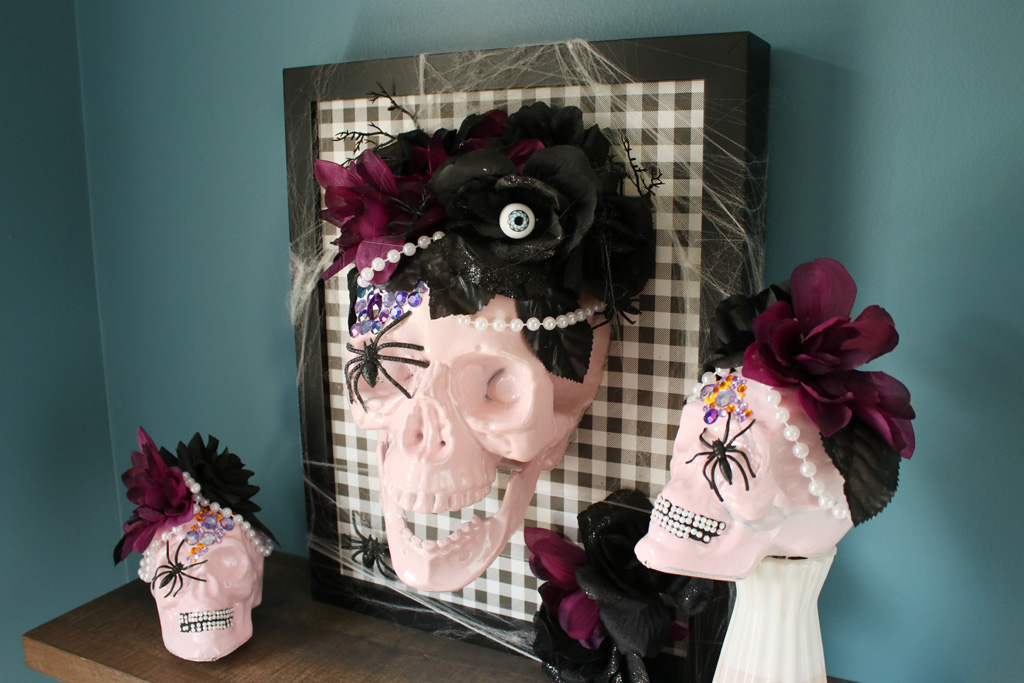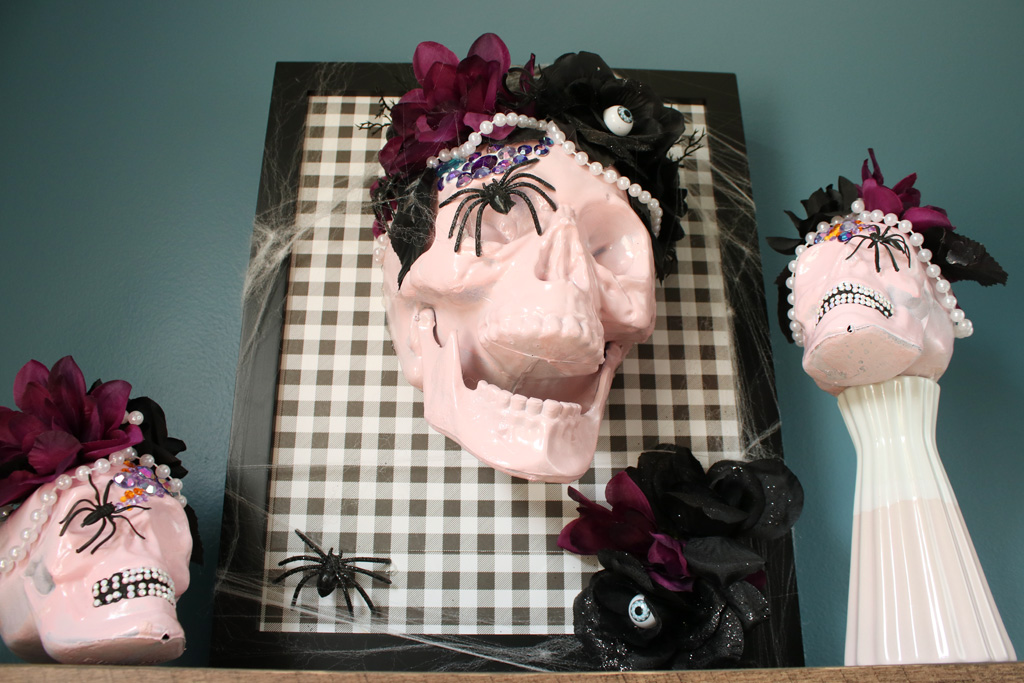 Add the backer into the frame and stretch fake spiderwebs across the corners and front view. Adhere additional spiders or florals to the backer.
If desired, style with additional skulls on a shelf space to really kick up the spooky factor!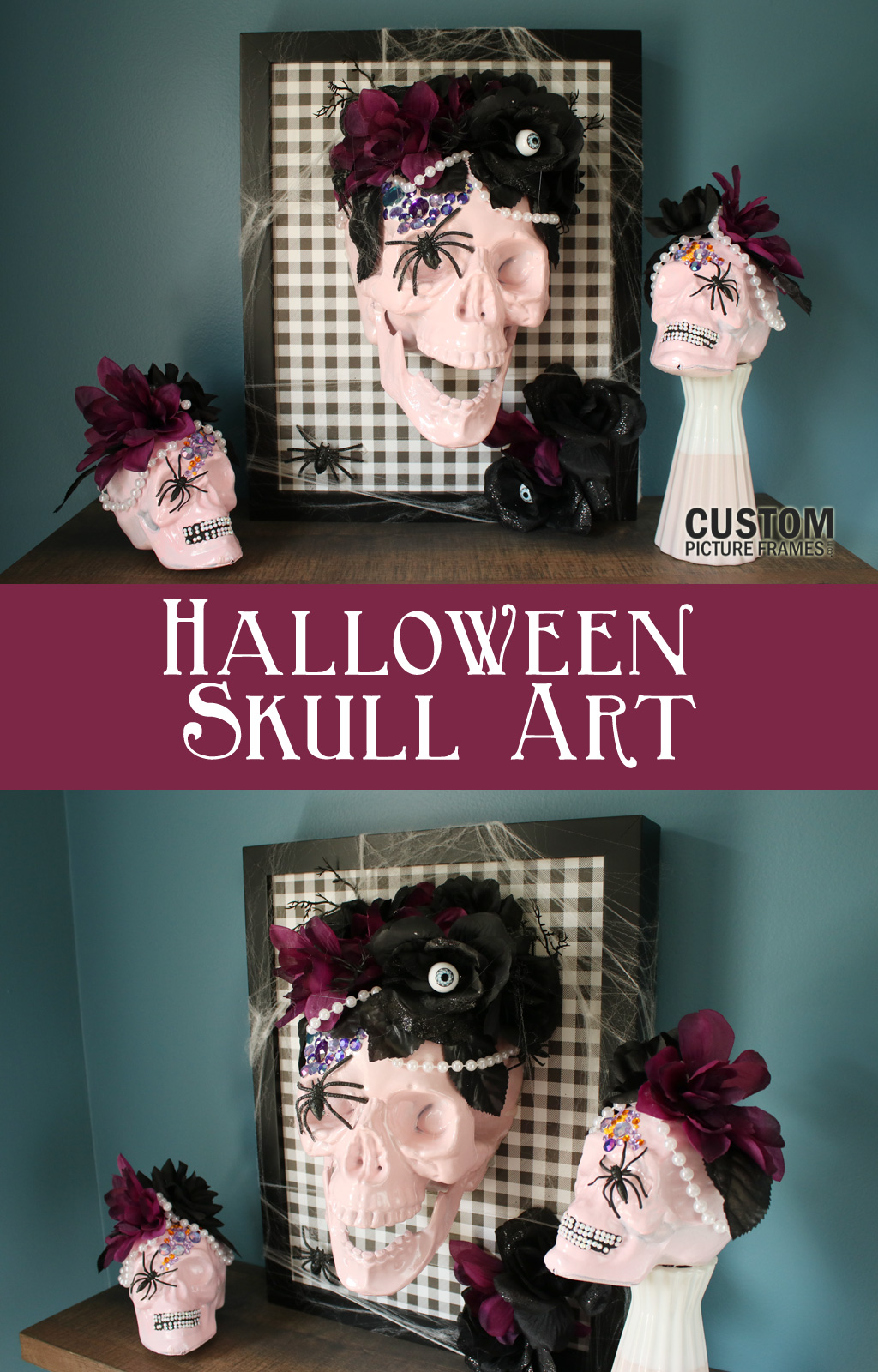 ---
About The Author
| | |
| --- | --- |
| | Tara Nehil is author of SpotOfTeaDesigns.com, a lifestyle blog sharing home décor, crafts, party inspiration and parenting lessons learned the hard way. Her graphic design background is evident in the home she lives in and styles with her husband of 8 years and 2 young daughters. Follow her creative journey for photo tutorials, printables, budget-friendly decorating tips and ways to celebrate occasions big and small. |