Picture Frame Hanging Hacks For Hassle-Free Hanging
July 14, 2021
Hanging picture frames can be a frustrating experience. Instead of putting a bunch of holes in your wall, we'll help you hang your frames like a pro. We've collected some picture frame hanging hacks that will help you put your new art on display!
Fork Hanging Hack For Picture Frame Wire
Trying to snag the wire on your nail can sometimes make you feel like a cheesy infomercial actor. But you don't have to guess or scrape up your wall to hang your frame from picture frame wire anymore.
Start by grabbing a fork from your kitchen. Place the fork on the nail with the bottom curve facing the wall. 
Then, carefully slide the frame over the fork's handle. This will help guide the wire right to the nail.  
After you've snagged the wire on the nail, pull out the fork and you're done!
Easy DIY Tool for Sawtooth Hangers
Creating a DIY hanging tool is easy with a few supplies you might even have around your house. You might've seen this hack in our How To Create An Eclectic Gallery Wall post by Shelley at Crazy Wonderful. All it takes is a piece of scrap wood (or some cardboard depending on the weight of your frame) and a screw or nail.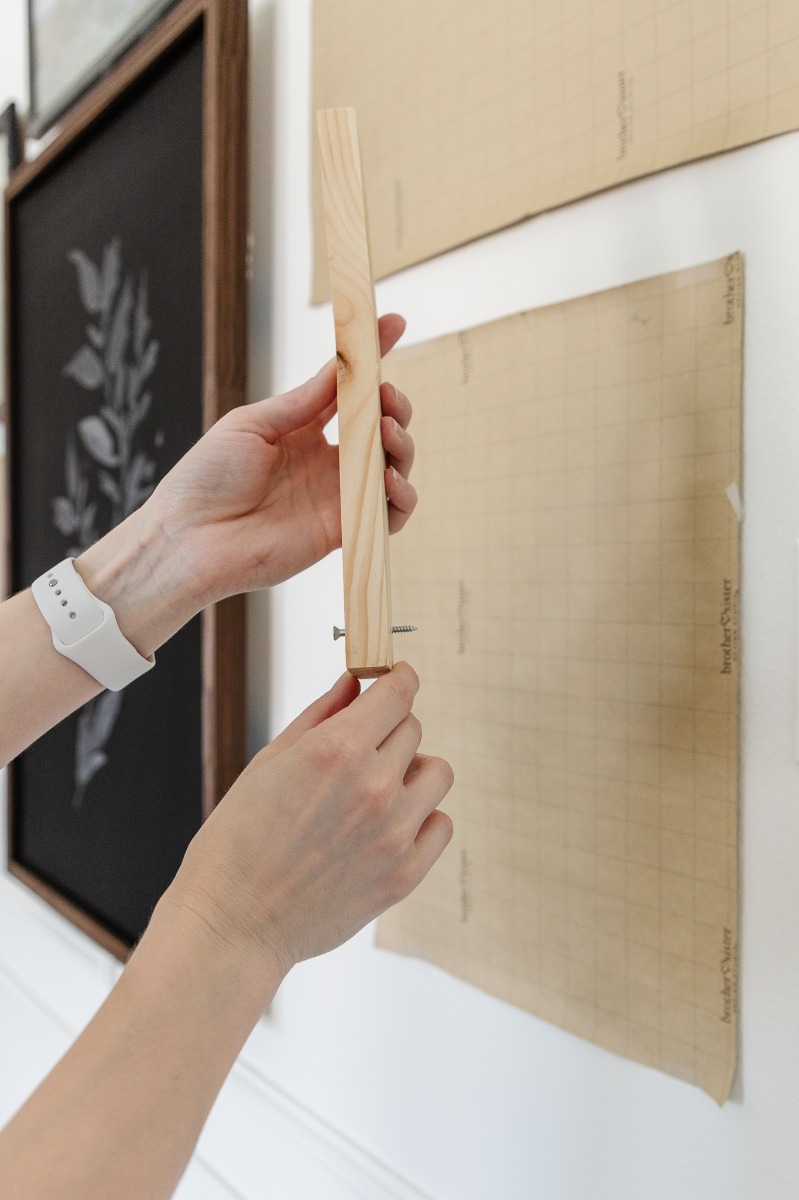 Place the screw through the piece of wood. Depending on the width of the wood and the weight of the frame, you'll have to find the best spot for this so that you can hold the wood up to the wall.
Hanging your art on that screw and position it on your wall. You can also lean a level on the tool to help you position your frame perfectly. If you've got templates already hung as Shelley did in these pictures, you can just find the center of the template. 
Once the frame is in place, push the screw against the wall. It will make an indent or small hole so you'll know where to place your nail. Then you can hang your art on that nail and your frame will be on display in no time.  
Painter's Tape Hanging Hack
For picture frames or wall art with two hangers, using painter's tape helps you get the job done like Shelley from Crazy Wonderful did in our How to Create and Hang a Gallery Wall blog post. 
Place a piece of tape sticky side up across the back of the frame right on top of the hanging hardware. Use a pen or pencil to mark where the hardware is on the tape.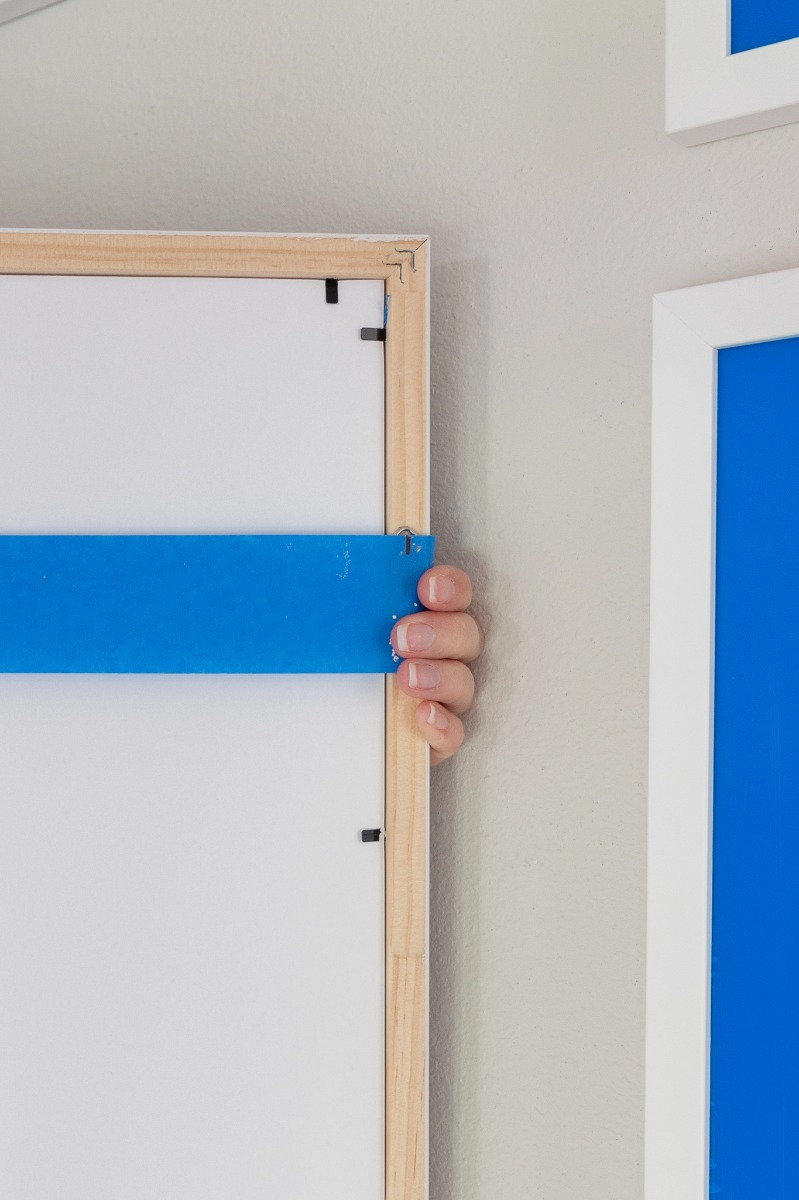 With the tape pulled tightly, position the frame on the wall. Use a level to line up the frame perfectly. Once the frame is in the right place, press the tape against the wall. 
Take away the frame and now you know exactly where to place your nail or screw! There's no guessing or measuring to help you find where or how far apart the hanging hardware is!
Hammer your nails in at the marks and you'll be ready to hang your frames with ease! There's no need to put any extra holes in your wall to get your frame hung. 
Here at Custom Picture Frames, our goal is to make custom framing more affordable and accessible to all! But we don't just stop helping after you receive your frames. We hope these hanging hacks help you hang your new picture frames or any wall art in general quickly and easily! If you have any questions about hanging hardware, you can find information about installing the different kinds in this blog post. And if you'd like to speak to a customer service rep, you can call, chat or email the team to get in touch with a framing expert. 
---
About The Author
| | |
| --- | --- |
| | Brittany DeMauro is the Creative Director here at CustomPictureFrames.com. With a background in creative writing and a passion for all things DIY, you'll find her in the shop crafting content. She can always find space for a fun gallery wall and loves discovering new artists to display around her home (in custom frames, of course!) When she's not creating content for our brand, she can most likely be found binging shows on Netflix with her two cats. |