Renter-Friendly Decorating: Creative Ways to Hang Picture Frames Without Nails
August 23, 2023
Decorating your living space with picture frames is a wonderful way to add personality and warmth to your home. However, if you're renting, the thought of putting holes in the walls might make you hesitate. The good news is that there are plenty of innovative alternatives to hanging picture frames without nails (or at least fewer nails), allowing you to enjoy a beautifully decorated space without any lasting damage. In this blog post, we'll explore some creative and renter-friendly options for displaying your cherished memories on the walls.
*NOTE: Be sure to follow instructions on the packaging to ensure proper use and installation to minimize accidents and damages. These methods may still cause damage to your walls, so use caution. When in doubt, talk to your landlord.*
1. Adhesive Hooks and Strips
Adhesive hooks and strips are a renter's best friend when it comes to hanging picture frames without nails. They come in various weight capacities and are designed to hold firmly to the wall without leaving any residue when removed. Simply attach the adhesive hook to the wall and hang your picture frame using the attached wire or sawtooth hanger. When you're ready to move, just peel off the adhesive strip without a trace.
2. Command Hooks
Command Hooks, a brand of adhesive hooks, are specifically designed to offer damage-free hanging solutions. They come in various sizes and styles, making them suitable for various frame weights and designs. Command Hooks are easy to apply and remove, making them an excellent choice for renters who want to personalize their space without making permanent changes.
Source: Spot Of Tea Designs
3. Picture Ledges
Picture ledges are versatile and stylish options for displaying multiple picture frames without needing nails to display each picture frame. These narrow shelves are installed close to the wall and provide a platform for arranging frames artfully and dynamically with just a few holes in your wall. You can easily change the layout of your frames and swap out pictures as you wish, making picture ledges perfect for showcasing seasonal or rotating displays.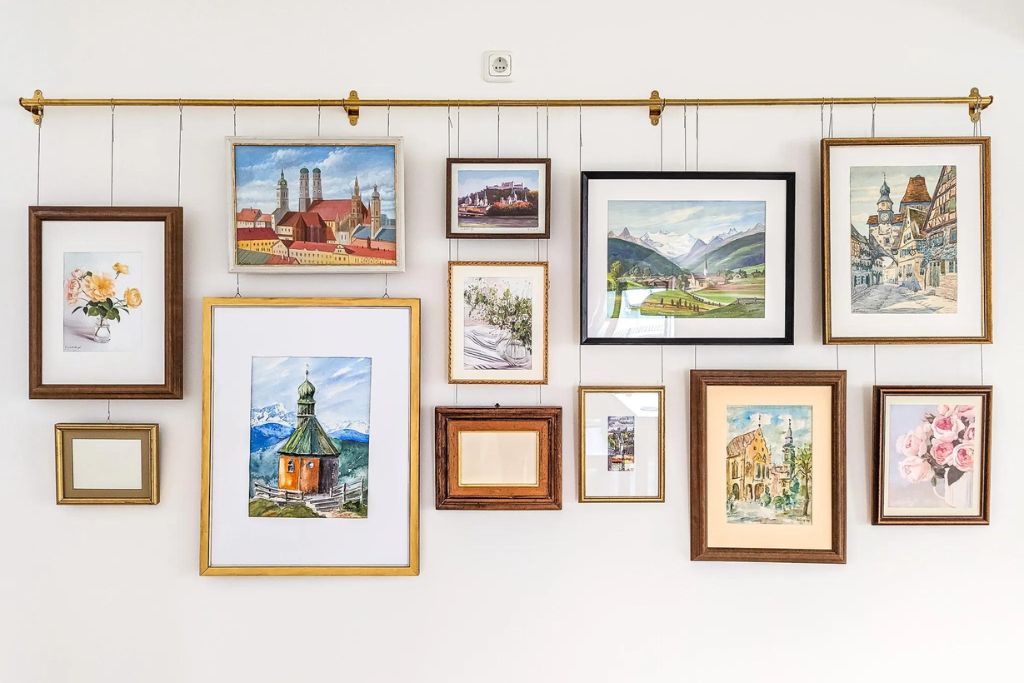 Source: Porch And Peony
4. Picture Rails
Picture rails are a unique way to display art while minimizing the amount of holes in your walls. You can even use tension rods for a no-hole recreation if your space permits. Tension rods are typically used for curtains, but they can also be a creative way to hang picture frames. Install a rod on your walls, and then hang your frames from the rod using hooks or clips. This method works well for creating a gallery wall without making holes for each picture frame and offers flexibility in arranging your frames.
Source: Honestly WTF
5. Decorative Washi Tape
If you want a playful and temporary solution, decorative washi tape can do the trick. Use washi tape to create a visually appealing border around your pictures to act as frames. This works particularly well for smaller images and adds a touch of color and whimsy to your wall decor.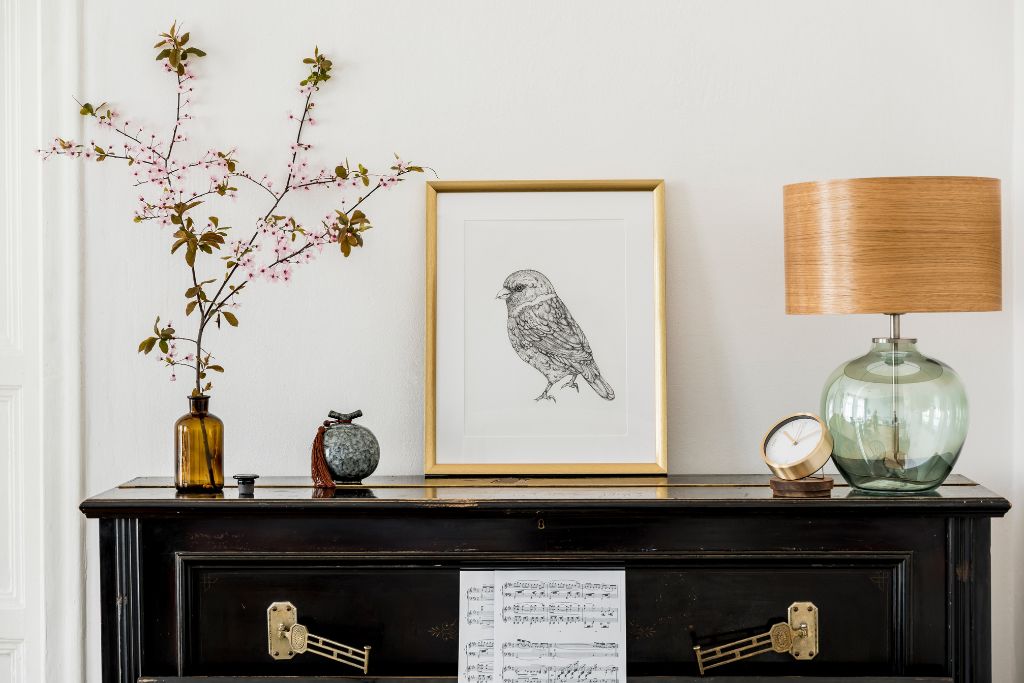 6. Easel Stands
When in doubt, use your table space. If you have tabletop picture frames, use easel stands to display them on shelves, mantels, or countertops. Easel stands come in various styles and sizes, allowing you to create charming vignettes throughout your space. While this is the most renter-friendly option for displaying picture frames, your tabletop space might be limited, so it's important to weigh your options.
Decorating your rented space with picture frames doesn't have to involve nails and wall damage. By exploring these renter-friendly options, you can personalize your home, add a touch of your own style, and showcase your cherished memories without compromising your lease agreement. From adhesive solutions to creative alternatives, the possibilities for displaying your frames are virtually endless.
Remember, the key is to choose the method that suits your frames' weight and your preferences while keeping in mind the rules and guidelines set by your landlord. With a little creativity and some renter-friendly tools, you can transform your walls into a gallery of memories that truly reflect your personality and style.
Decorating is about making a space feel uniquely yours, and these alternatives to traditional nails ensure that even renters can enjoy a personalized and beautifully adorned living environment.
About The Author
| | |
| --- | --- |
| | Brittany DeMauro is the Creative Director here at CustomPictureFrames.com. With a background in creative writing and a passion for all things DIY, you'll find her in the shop crafting content. She can always find space for a fun gallery wall and loves discovering new artists to display around her home (in custom frames, of course!) When she's not creating content for our brand, she can most likely be found binging shows on Netflix with her two cats. |