Etsy Artistry: A Comprehensive Guide to Selling Art in All Its Forms
September 13, 2023
Etsy, a global marketplace for handmade, vintage, and unique items, offers an incredible platform for artists to share their creations with the world. Whether you're selling printable digital files, high-quality prints, or custom-framed art pieces, Etsy is the ideal place to turn your passion into profit. In this guide, we'll explore the journey of selling art on Etsy, from choosing the right product format to reaching a broader customer base using Etsy's platform features and social media.
1. Choose Your Art Format
Etsy's diverse marketplace offers a wide array of art that caters to every taste and budget. From affordable printable digital files that allow buyers to add a personal touch to their living spaces to investments in traditional physical art pieces that stand as timeless treasures, Etsy's art section has it all. You can discover intricately detailed illustrations, mesmerizing oil paintings, vibrant watercolors, and so much more.
This platform welcomes both emerging artists seeking to share their talents and seasoned professionals with established portfolios. With options ranging from wallet-friendly digital art downloads to unique, handcrafted artworks, Etsy empowers art enthusiasts to explore, express themselves, and bring a touch of creativity into their lives.
The first step in selling art on Etsy is to determine the format that best suits your creations:
Source: Pixel & Paper Prints
a. Printable Digital Files:
Ideal for digital artists and graphic designers.
Offer a range of digital prints, from wall art to greeting cards.
Upload high-resolution files that buyers can download and print themselves.
Be sure to specify usage rights and provide helpful printing tips.
Source: Custom Picture Frames Etsy
b. High-Quality Prints:
Perfect for traditional artists and photographers.
Invest in high-quality printing services to reproduce your art.
Offer different sizes and finishes to cater to various preferences.
Ensure accurate color reproduction and sharp details in your prints.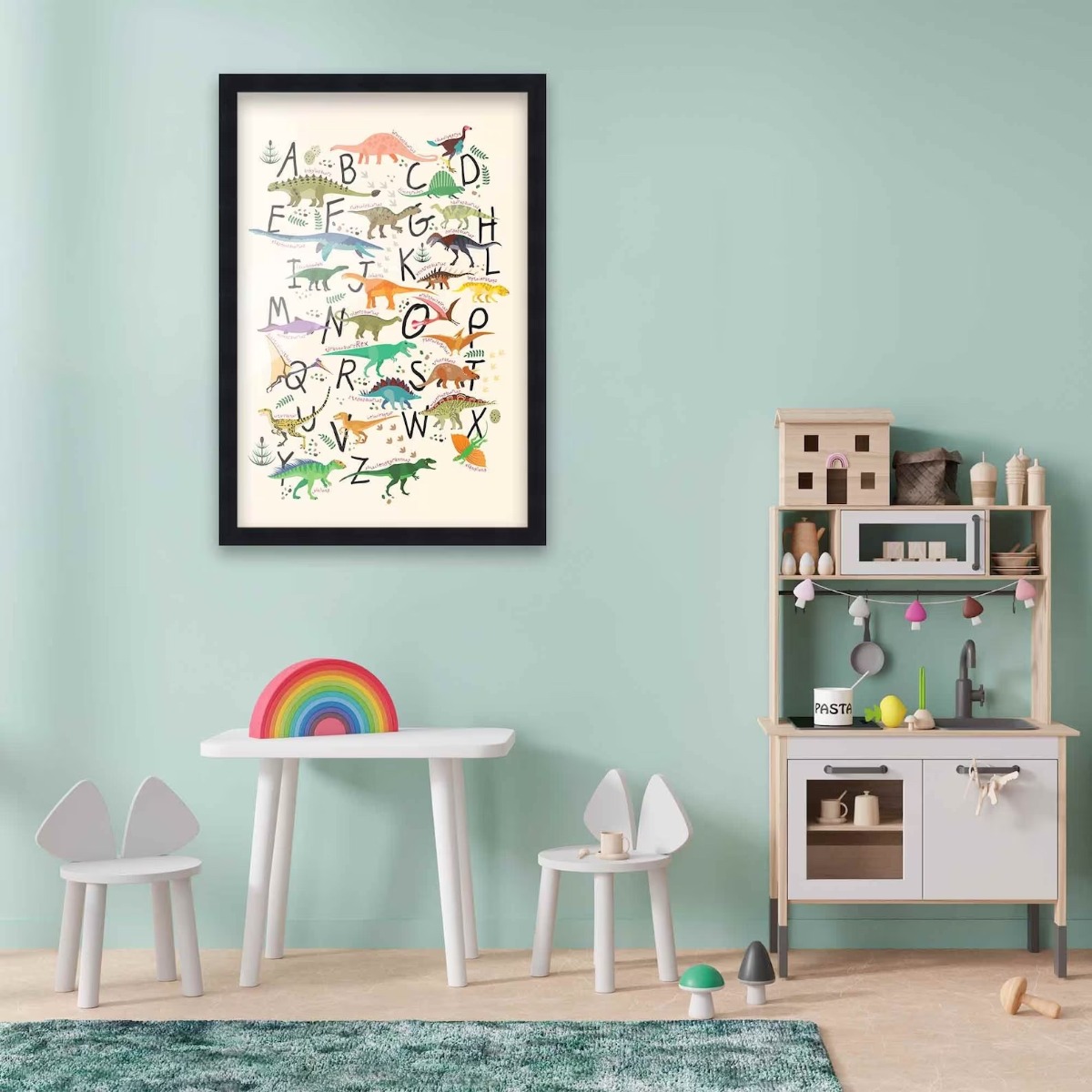 Source: Custom Picture Frames Etsy
c. Custom-Framed Art Pieces:
A niche market for artists who want to offer a complete, ready-to-hang product.
Collaborate with custom framers to create unique framed art pieces.
Highlight the craftsmanship and customization options you provide.
Communicate the materials and care used in framing to emphasize quality.
2. Crafting Your Etsy Shop
Your Etsy shop is your online storefront; make it inviting and informative. Creating a high-quality and optimized Etsy shop requires attention to detail and a strategic approach. Start by choosing a shop name that reflects your brand and resonates with your target audience. Craft an eye-catching banner and profile picture, and write a compelling shop description that tells your story and showcases your commitment to quality. Invest in professional, well-lit product photography or high-quality mockups to showcase your items effectively. Ensure your product listings are detailed, informative, and optimized with relevant keywords for search visibility.

To summarize how to create an inviting and informative Etsy storefront:
Choose a shop name that represents your brand.
Create an eye-catching banner and profile picture.
Write a compelling shop description, sharing your artistic journey and commitment to quality.
Use high-quality images for your product listings.
Craft engaging product descriptions that evoke emotions and provide essential details.
3. Reach a New Customer Base with Etsy's Tools
Etsy can benefit Etsy art sellers, providing them with a powerful tool to boost visibility and increase sales. With its visual appeal, art often benefits greatly from advertising, as it can capture the attention of a broader audience. Etsy has tools allowing sellers to reach potential buyers beyond the platform through various online channels, including Google, Facebook, and Instagram. This expanded exposure can attract art enthusiasts and collectors who may not have discovered your shop otherwise. Etsy's advertising tools also enable sellers to target specific demographics and interests, ensuring their art reaches the right audience. With transparent reporting and budget control, sellers can assess the effectiveness of their ad campaigns and optimize them for better results. Ultimately, Etsy empowers art sellers to showcase their creativity, connect with a wider customer base, and turn their passion into a profitable endeavor.
Source: Etsy Seller Handbook
Etsy provides several tools to help you reach a broader customer base:
a. Etsy Ads:
Use Etsy's advertising platform to promote your listings.
Set a daily budget and select relevant keywords.
Monitor ad performance and adjust as needed to maximize visibility.
b. Etsy Offsite Ads:
Extend your shop's reach beyond the Etsy platform.
Sellers who meet the eligibility criteria are automatically enrolled.
Sellers only pay for Offsite ads when they make a sale from a click generated by them.
c. Etsy Search Optimization (SEO):
Optimize your product titles, descriptions, and tags with relevant keywords.
Research popular search terms to include in your listings.
Regularly update your listings to keep them relevant in search results.
4. Promote Your Shop on Social Media
Etsy's Share & Save program is a new, valuable tool that encourages sellers to actively promote their Etsy shops on social media platforms. By sharing their listings through this program, sellers offer potential buyers a discount on their products, incentivizing engagement and encouraging sales. This initiative drives traffic to their Etsy shops and fosters customer loyalty. Sharing products on social media platforms such as Instagram, Pinterest, and Facebook is an effective strategy to increase brand awareness, connect with a broader audience, and ultimately boost sales. These platforms provide a visual and interactive space where sellers can showcase their unique products, share their artistic journey, and engage with potential customers directly. By actively participating in the Share & Save program and harnessing the power of social media, Etsy sellers can elevate their brand presence, establish a strong online community, and thrive in the competitive world of e-commerce.
Source: Etsy Seller Handbook
When sharing your products on social media, it's important to remember to:
Share high-quality images of your art on platforms like Instagram, Pinterest, and Facebook.
Use relevant hashtags and engage with your followers.
Collaborate with other artists and influencers for cross-promotion.
Create content that tells the story behind your art and your creative process.
5. Build Customer Trust
Etsy strongly emphasizes best practices for customer service and building customer trust. To achieve this, sellers are encouraged to respond to inquiries promptly, address any concerns or questions with professionalism and courtesy, and fulfill orders on time. Providing detailed and accurate product descriptions and high-quality images helps set clear expectations for buyers. A flexible and fair return policy can reassure customers and build trust in your shop. Encouraging satisfied buyers to leave reviews helps boost credibility and signals to potential customers that you're a trusted seller. Etsy's platform also facilitates direct communication between sellers and buyers, fostering a sense of transparency and personalized service. By adhering to these best practices, Etsy sellers can cultivate a positive shopping experience, earn customer loyalty, and establish a reputation for reliable and trustworthy service, ultimately leading to repeat business and word-of-mouth recommendations.

Exceptional customer service is vital for building trust and securing repeat business:
Respond promptly to inquiries and provide clear, friendly communication.
Offer a hassle-free return policy to reassure customers.
Encourage satisfied buyers to leave reviews, which can boost your credibility.
6. Secure Packaging and Shipping
Delivering Etsy orders promptly and safely is a top priority for sellers. For digital files, ensuring that downloads are readily accessible and user-friendly is key. Sellers should provide clear instructions and ensure that the files are high-quality and easily downloadable to enhance the customer's experience.
In the case of physical art, packaging is paramount. Sellers should invest in sturdy and protective packaging materials to safeguard the artwork during transit, including options like archival sleeves and sturdy boxes. Properly securing the artwork with protective layers can prevent damage and ensure that the customer receives their order in pristine condition. Timely shipping and clear communication on estimated delivery times further contribute to a positive customer experience, fostering trust and satisfaction that can lead to repeat business and positive reviews on Etsy.
Protect your art during transit by investing in secure packaging materials:
Use appropriate packaging for your chosen art format.
For prints, consider adding protective layers, such as glassine paper or archival sleeves.
Be transparent about shipping times and provide tracking information to buyers.
Selling art on Etsy is an exciting journey that allows artists to share their creativity with a global audience. By choosing the right art format, crafting an appealing Etsy shop, utilizing Etsy's tools like ads and SEO, and promoting your shop on social media, you can expand your reach and find success in the art market. Whether you offer printable digital files, high-quality prints, or custom-framed art pieces, Etsy provides the platform to turn your passion into a thriving business. Embrace the artistic possibilities, and watch your artistry flourish on Etsy!
About The Author
| | |
| --- | --- |
| | Brittany DeMauro is the Creative Director here at CustomPictureFrames.com. With a background in creative writing and a passion for all things DIY, you'll find her in the shop crafting content. She can always find space for a fun gallery wall and loves discovering new artists to display around her home (in custom frames, of course!) When she's not creating content for our brand, she can most likely be found binging shows on Netflix with her two cats. |