Our story
At CustomPictureFrames.com, we're here to bridge the gap between the store-bought frames that are often generic and boring and the sticker shock of custom printing and framing. We get it. Most of us have artwork we'd love on the wall, but most of the store-bought frames won't do it justice. That's where we come in.
With our large inventory of moulding styles, we're able to handcraft a picture frame, shadow box or canvas frame efficiently and affordably. Our framing experts will get right to work crafting your custom, gallery-quality frame. Our top-of-the-line equipment allows us to be meticulous and cost-effective. From our state-of-the-art printers to our professional-quality saws, joiners, and mat cutters, we pay close attention to details to produce products you expect from custom frame artisans at a fraction of the price.
Here at CustomPictureFrames.com, we make your memories last.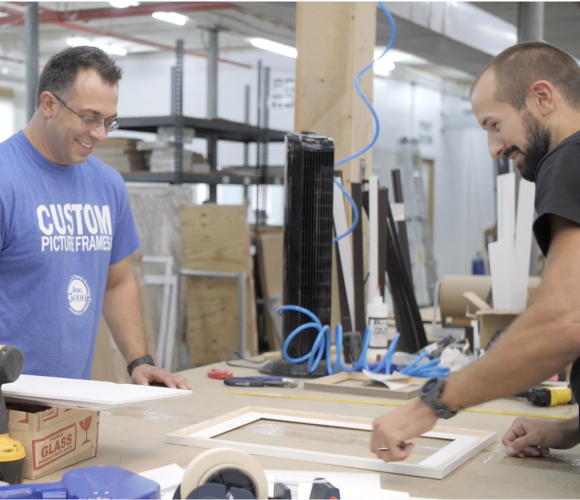 We got the goods and the craftsmanship.
We're great framers. Our frames are handcrafted by frame experts to provide a professional finish to your pictures, art prints, and keepsakes. The expense is in the craftsmanship. However, our team has developed a way to maintain the high-quality craftsmanship you'd find at a high-class frame shop while bringing the price below the upper stratosphere.
We take pride in our craftsmanship, and we hold our materials to the highest standards. When we create your custom frame, we want everything from our mouldings to our backings to exceed your expectations. Our mouldings are solid wood. Our matboards are 4-ply thick and come in a variety of colors to fit your needs. We use an acid-free 3/16" thick white foam core board as backing for your frame. Our picture frames and shadow boxes feature frame-grade acrylic with UV protection properties to help preserve and protect your images and art from light damage. Your frames will ship right to your door in our specially engineered boxes designed to minimize any damage.
After placing your order, our framing professional get to work! With great care and the utmost attention to detail, our team works together to handcraft the picture frames, shadow boxes and canvas frames you need in any size or style. Together, our team is helping to make custom framing accessible and affordable for all!
Check out our framing resources
Where we started
CustomPictureFrames.com started as a passion project. Initially operating out of his home, our founder and CEO, Anthony Fontana, provided friends and family quality custom framing services without breaking the bank. Then, his friends and family told their friends and family that he was selling his services online soon enough. What started in his home expanded to a full-scale operation.
As CustomPictureFrames.com continues to grow, our goal remains the same. Our team is dedicated to providing high-quality custom framing services that are professional and affordable.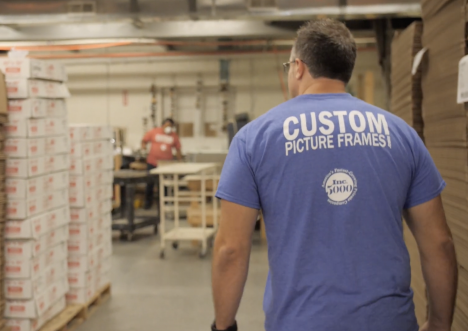 Our process
Our online frame builder makes it simple to customize a frame to your exact specifications.
Our team of frame experts is constantly on the lookout for new styles and materials to help our customers stay up-to-date and on-trend when it comes to their picture frames. That means our inventory is always expanding and updating to ensure our frames are the latest and greatest. Once you find the style you need from our inventory of 300+ moulding options, the customization process begins.
With the help of our frame builder, you can view all of your options in real-time. You can seamlessly customize everything, like the frame size, mat color, mat design, glass, and hanging method. You'll have complete control of how the finished frame will look to showcase any photographs, art prints, canvases or keepsakes in style.
All that's left for you to do is to preview it one last time before placing your order. That ensures that we handcraft the exact frame you need. This helps us deliver the perfect custom frame right to your door every time. Once your preview is approved and your order is submitted, our frame experts begin their building process. Before you know it, your custom picture frame will be on display in your home or office.
Have any questions about our process? Contact us today so we can get started right away with your custom picture frame!