What Is Aspect Ratio? Everything You Need To Know About Common Ratios & Print Sizes
May 17, 2023
Aspect ratio is a term used to describe the proportional relationship between the height and width of an image or video. This relationship is not expressed with standard units of measurement but is based on a representation of those proportions. Aspect ratios are especially important when dealing with digital media, as many websites require specific ratios to display content correctly. When it comes to art prints, most pieces conform to a few common ratios.
Common aspect ratios and print sizes
At CustomPictureFrames.com, we understand the importance of aspect ratios and have compiled a list of the most common ratios and print sizes in inches for your convenience:
1:1 ratio common print sizes: 8x8, 12x12, 16x16, 20x20
2:1 ratio common print sizes: 12x6, 20x10
2:3 ratio common print sizes: 4x6, 6x9, 12x18, 16x24, 20x30
3:4 ratio common print sizes: 6x8, 9x12, 12x16, 15x20, 18x24
4:5 ratio common print sizes: 8x10, 16x20, 24x30
Some medium format cameras use a 1:1 square format ratio, which is also widely supported by popular social media platforms such as Instagram and Facebook.
DSLRs with full-frame sensors and APS-C crop sensor cameras typically have 3:2 sensors.
Smartphones and Micro Four Thirds cameras typically shoot in a 4:3 aspect ratio.
The widescreen format with a 16:9 aspect ratio is commonly used for high-definition video and is the standard for HDTV.
Changing aspect ratios
Changing aspect ratios is usually possible, but depending on the image's original size, you may have to crop portions of your art to conform to the new ratio. For example, if you want to switch a 5:4 ratio image with a size of 16x20 inches to a 1:1 ratio with a size of a 16x16 inch square, you need to crop 4 inches from the height of your image. The same principle applies when switching from a square to a rectangle with a different ratio.
Choosing the right frame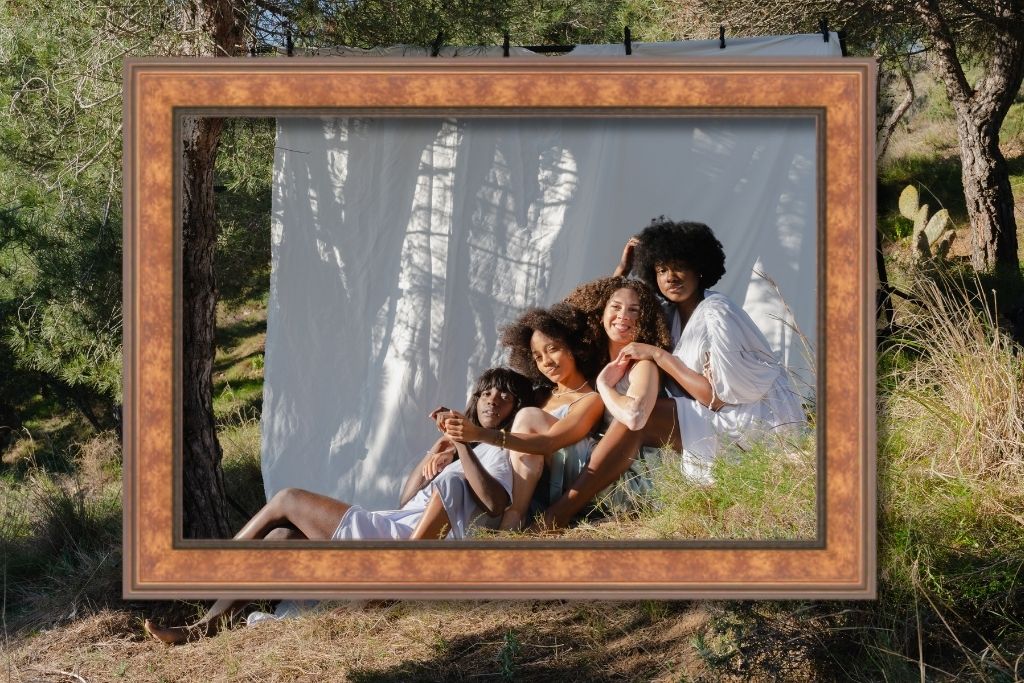 No matter the aspect ratio, selecting the perfect frame for any image is simple with our interactive frame designer. For printed images, measure the width and height of your art, and add those values to our frame designer. It will generate the correct size frame based on your art measurements. For digital images, the image size is automatically calculated after the upload is complete. You can adjust the size of your frame and image by choosing from our suggested dimensions or inputting your own values.
Make sure to consider image resolution and the Dots Per Inch (DPI) calculation as you enlarge or shrink your piece, and remember that switching aspect ratios may result in the need for cropping. Our website generates the best sizes your digital file can be printed at for the most high-quality image. If you'd like to print at a size larger than the system suggests, contact customer service to make sure your file can be enhanced to be printed.
At CustomPictureFrames.com, we are here to help you with all your framing needs. If you need assistance, please get in touch with our support team with any questions. Don't forget to share your creative framing projects with us on social media using #getcustomframed!
---
About The Author
| | |
| --- | --- |
| | Brittany DeMauro is the Creative Director here at CustomPictureFrames.com. With a background in creative writing and a passion for all things DIY, you'll find her in the shop crafting content. She can always find space for a fun gallery wall and loves discovering new artists to display around her home (in custom frames, of course!) When she's not creating content for our brand, she can most likely be found binging shows on Netflix with her two cats. |