Festive Frames and DIY Delights: 4 Holiday Picture Frame Decor Inspirations
November 08, 2023
The holiday season is upon us, and what better way to celebrate than by adorning our homes with personalized and imaginative decor? This year, we've scoured our online custom framing shop's blog for DIY projects combining holiday-themed picture frames' charm with creative crafting ideas. From delightful scarecrow shadow boxes to heartwarming winter family initial door decor, these projects promise to add a touch of warmth and magic to your home. Let's dive into the holiday picture frame decor world and get inspired to make this festive season special.
DIY Scarecrow Shadow Boxes
As autumn arrives, the countryside transforms with plaid-shirted scarecrows standing proudly in cornfields, their straw hats serving as decoys to ward off hungry birds. These quirky figures have become synonymous with the fall season, symbolizing harvest and abundance. In our DIY Scarecrow Triptych Shadow Boxes project, we bring a whimsical twist to this tradition. Using the warm honey pecan finish of the Auden shadow boxes, we capture the essence of pumpkins and fall foliage in a three-piece artwork perfect for your mantle. Follow our easy steps to add adhesive vinyl faces, using our complimentary template, and embellish them with faux floral accents. Now, your scarecrow has a charming companion, making your autumn decor truly delightful!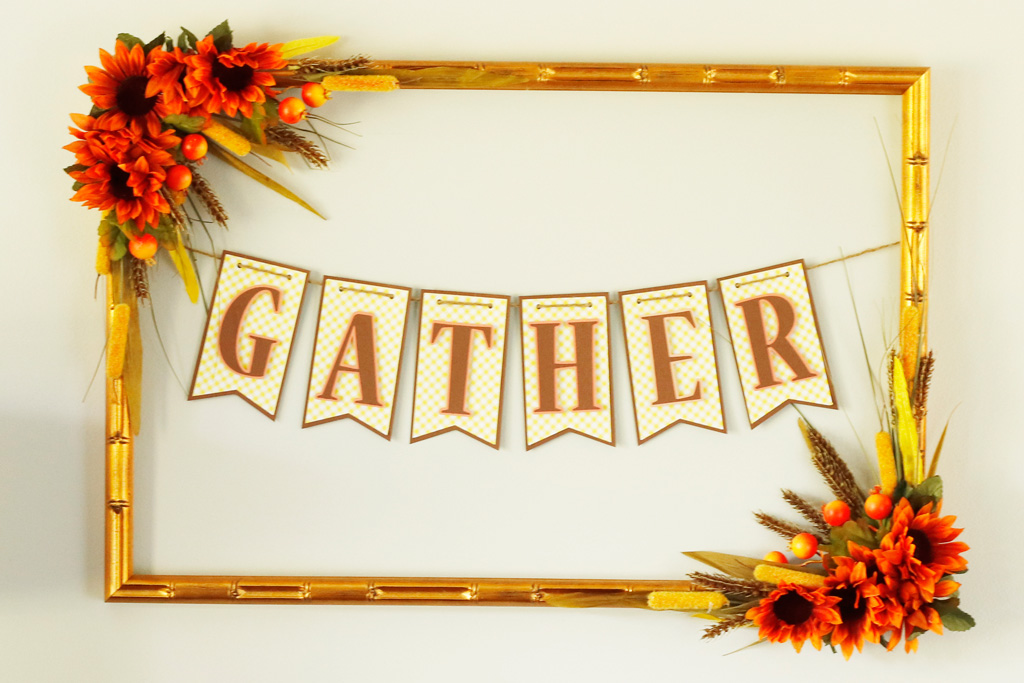 Thanksgiving Gather Wreath
Who says wreaths have to be round? Break free from tradition and get creative this Thanksgiving by crafting a unique wreath using a square or rectangular picture frame as your canvas. Our Arnhem frame, adorned with exotic bamboo details, serves as an excellent foundation for your seasonal home decor. Embrace the richness of fall hues by incorporating warm tones and artificial flowers that complement the frame's elegant gold color. Add a dimensional banner to enhance the overall design. Available in custom sizes, our frames allow you to unleash your creativity fully. Hang your personalized Thanksgiving Gather Wreath in the dining room's gathering area and infuse your home with the vibrant colors of this festive season.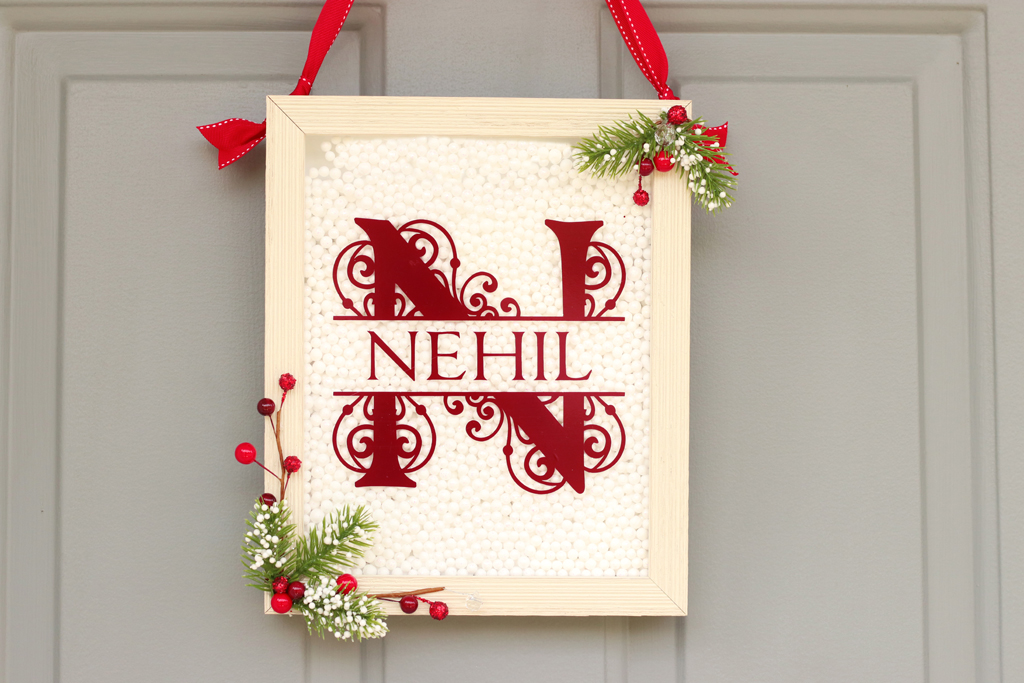 DIY Winter Family Initial Door Decor
Ensure your house stands out this winter with a charming display that guides guests, delivery workers, and neighbors to the right place and adds a touch of elegance to your home. Craft a winter solstice-inspired initial door decoration using our Finnegan shadow box, featuring a pristine white finish that complements the farmhouse aesthetic. Enhance the festive vibe with a sprig of faux holly berries in a delightful red, white, and green color scheme. This versatile decor piece can be hung on your door or placed on your mantelpiece for a cozy Christmas ambiance. Our tutorial guides you through the process, demonstrating how to incorporate adhesive vinyl, a lovely ribbon, and faux seasonal accents to create this inviting and festive feature.
Grinch Shadow Box
Embrace the charm of the ultimate holiday anti-hero, the Grinch from How the Grinch Stole Christmas. Initially portrayed as a curmudgeon with a heart two sizes too small, this lovable villain undergoes a heartwarming transformation by the story's end. Capture this heart-expanding moment with our Grinch Heart Art, a delightful Christmas decor piece housed in our Gisbert Shadow Box. Utilize our free SVG cut file to craft your own rendition of the Grinch's heart growing three sizes, subtly alluding to the character's heartwarming journey. Let this unique piece add a touch of whimsy and festive spirit to your holiday decor this season.
These DIY projects allow you to showcase your creativity and offer a fantastic opportunity to repurpose old frames and bring them to life with holiday charm. By combining the art of custom framing with the magic of seasonal crafts, you can create unique, heartwarming decor pieces that reflect the warmth and love of the holiday season.
So, gather your supplies, pick your favorite frames, and let your creativity shine. Transform your home into a winter wonderland filled with personalized, festive touches that will enchant your guests. Happy crafting and happy holidays!
About The Author
| | |
| --- | --- |
| | Brittany DeMauro is the Creative Director here at CustomPictureFrames.com. With a background in creative writing and a passion for all things DIY, you'll find her in the shop crafting content. She can always find space for a fun gallery wall and loves discovering new artists to display around her home (in custom frames, of course!) When she's not creating content for our brand, she can most likely be found binging shows on Netflix with her two cats. |