Styled By: Connie Barnhart
February 10, 2021
Finding the decor style that best fits your life can be challenging. Some trends can look great in model homes. However, until you live in it, you may love it or hate it. This happened to me with our dining room decor. I went with a contemporary style for the dining room. I ended up hating it!
Read along how Custom Picture Frames transformed our dining room.
I initially had blue abstract art for our dining room. It was too cool with our grey walls. The abstract art wasn't big enough to cover the large wall. I looked around for ideas to take up more wall space. Many sometimes opt for a mirror when they don't know what to do with a wall. I considered this as well but I wasn't sold on it. I love how pictures add a special touch to a home. I chose my daughter's headshots because to me, home is where she is. Seeing my daughter's pictures makes me happy and that's what decor is all about. To me, art decor creates the ambiance and sets the mood similar to color.
I went with their Noir Classique moulding and created 30" x 30" oversized picture frames to add a luxury feel to the dining room. I have watched YouTube videos on how to make your home decor look like a million-dollar home. From this, I learned that oversized pieces add more of a statement versus smaller decor pieces. I also saw this when we went to open houses. Sometimes we would stop by million-dollar listings for fun and inspiration.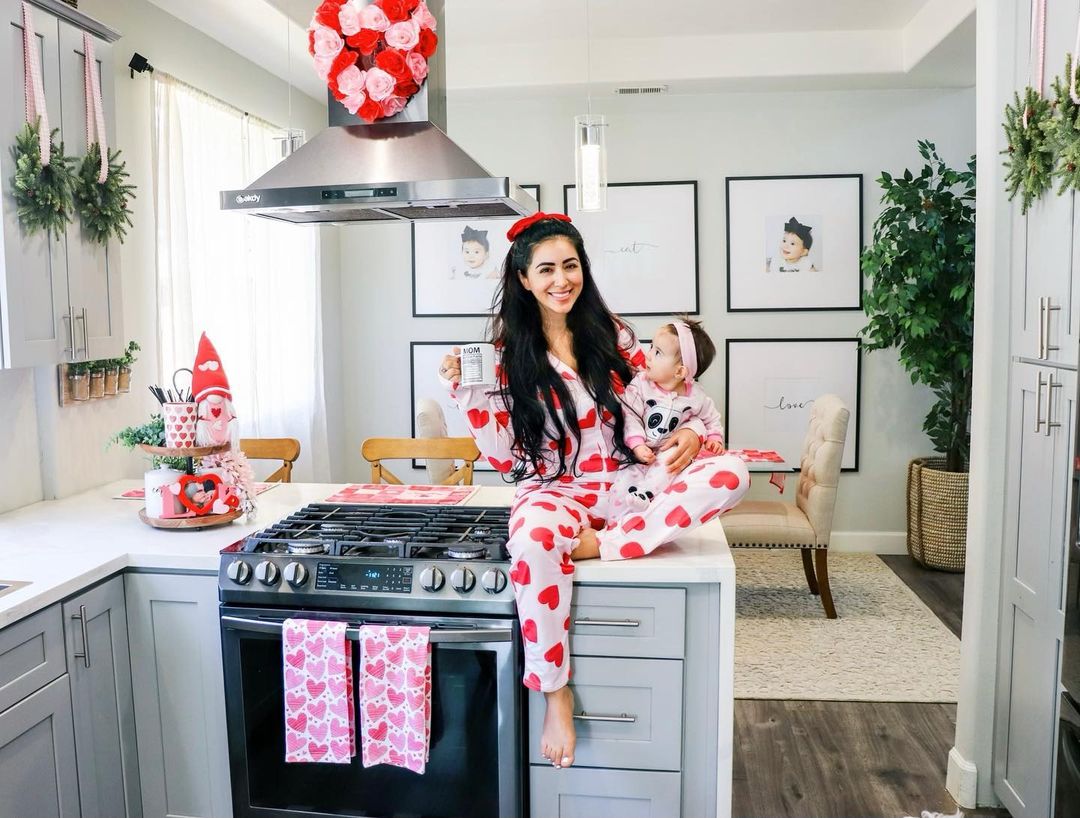 We are still in transition to a more modern farmhouse style for the dining area. I went with linen colored tufted chairs. The colors of the chairs and rug add a touch of warmth to our cooler wall color.
I have received many compliments on the dining gallery wall from Custom Picture Frames. I love decorating for the holidays. The dining room is currently decked out for Valentine's Day! I love that I can change the pictures to decorate for every holiday. This benefit makes it an inexpensive large decor piece. I DIY painted Valentine's Day art myself for the frames!
Custom Picture Frames now offers prints. I was shocked at how good my pictures came out. I'm not the best photographer, I use my camera in auto mode. My daughter's photos came out amazingly enlarged in 13" in X 13" in prints.
When the house is at rest (non-holiday decorated) I have the words: eat, laugh, love in half the frames to give it a dining room theme.
You can't go wrong with Custom Picture Frames to decorate your space. They have so many frame options to select from. They are hands down the best selection in sizes anywhere online.
---
About The Author
| | |
| --- | --- |
| | Connie Barnhart is a San Diego native and full-time lifestyle influencer. She shares about home decor, San Diego, motherhood, and style on her blog and Instagram. Her husband is a cyber security engineer and they have been happily married two years! |