Our Custom Picture Framing and Printing Materials
May 03, 2023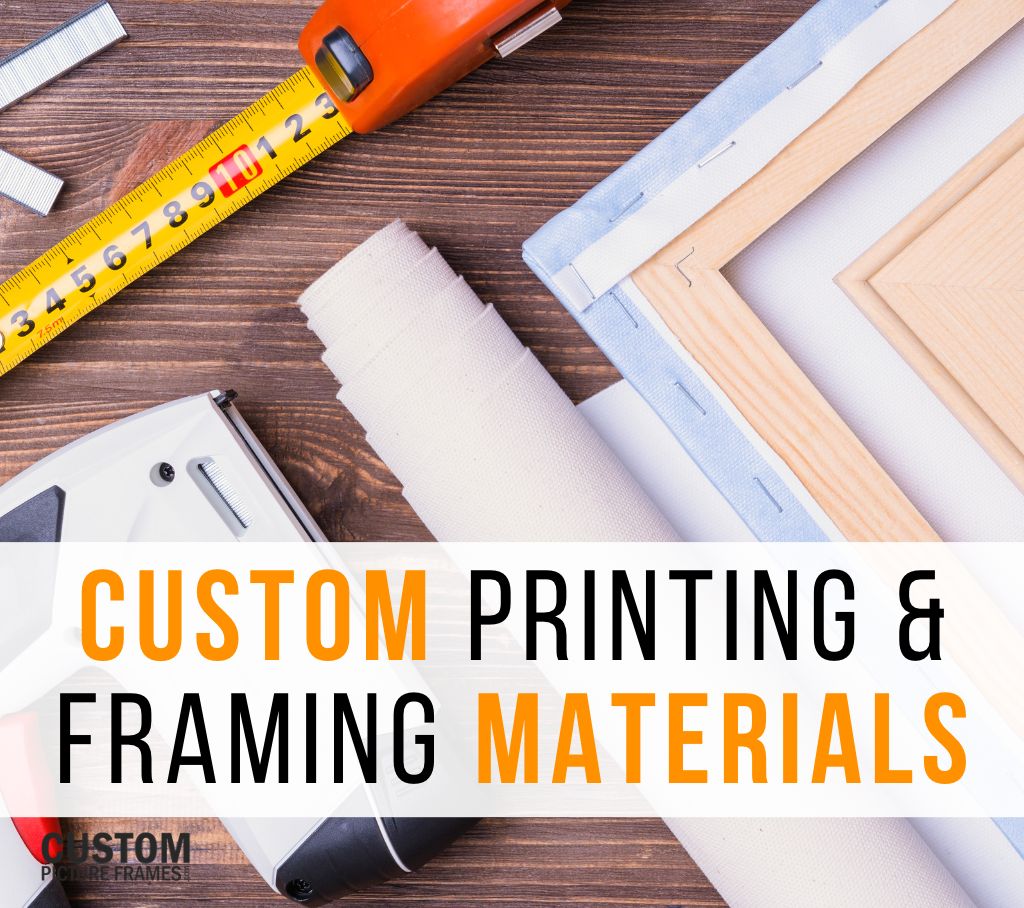 Quality materials are essential for preserving and displaying your most treasured memories and artwork. At CustomPictureFrames.com, we take great pride in our craftsmanship and hold our materials to the highest standards. Our materials should exceed your expectations and ensure your cherished artwork lasts years. Let's take a closer look at the materials we use and how they contribute to the quality of our finished products.
The Mouldings
Our frames are crafted from solid wood, which makes them strong and sturdy. You won't find any imitation wood or polystyrene options in our inventory. Our frames come in various styles, and you can even see the beautiful wood grain shining through the high-quality finishes in some styles. We understand that every artwork piece is unique and important, so we offer a vast selection of moulding options for you to choose from.
The Matting
Adding a mat to your picture frame gives it a refined finish. Our mat boards come in various colors and are 4-ply and 8-ply thick to fit your needs. We offer customization options, including single, double, or triple mats. You can even choose a mat with different textures, such as suede, basketball, and football. Adding a mat can protect your artwork from glass or acrylic and provide visual depth to your piece.
The Backing
The right backing is crucial to completing your artwork package. We include an acid-free 3/16" thick white foam core board with your frame to keep the artwork in place while protecting it. An acid-free backing can prevent your artwork from yellowing or deteriorating over time.
The Prints
We offer printing services that bring your favorite art or photograph to life. You can upload your photo or image file anywhere and choose between our paper and canvas options. We print on only the best archival paper and canvas, ensuring your print lasts for years. Our high-quality prints will shine in our frames, and you can proudly display your artwork.
The Glass
We use frame-grade acrylic instead of glass in our picture frames and shadow boxes. Acrylic is shatter-resistant, lightweight, and less expensive than glass, making it a more practical choice for our customers. We offer standard frame-grade and non-glare acrylic, which provide UV protection to help preserve and protect your images and art from light damage. Our non-glare acrylic is an excellent option for hanging artwork near a light source to eliminate glare.
The Inks
Our high-quality printing services start with our archival inks, which are resistant to weathering and fading. These inks ensure that your artwork or photograph will look stunning for years to come. No matter what file we print for you, you will receive a product that fits the fine art world.
The Packaging
We understand the importance of ensuring that our handcrafted frames are delivered to you in pristine condition. Therefore, we designed and manufactured our boxes to minimize damage during transit. These specially-engineered boxes are also sustainably sourced and produced, contributing to our commitment to environmental responsibility.
At our framing and printing shop, we take great care to use only the highest quality materials to ensure that your cherished artwork lasts for years. From our solid wood mouldings to our archival inks, we believe that every component of our products should be of the highest quality. When you choose us for your custom framing and printing needs, you can rest assured that your artwork is in good hands.
---
About The Author
| | |
| --- | --- |
| | Brittany DeMauro is the Creative Director here at CustomPictureFrames.com. With a background in creative writing and a passion for all things DIY, you'll find her in the shop crafting content. She can always find space for a fun gallery wall and loves discovering new artists to display around her home (in custom frames, of course!) When she's not creating content for our brand, she can most likely be found binging shows on Netflix with her two cats. |