Gallery Wall Planning Tips
February 23, 2022
Gallery walls are a great way to fill an empty space in a fun and dynamic way. Since gallery walls come in all shapes and sizes, there's a layout that's perfect for your decor scheme. But getting started on your gallery wall project can be a challenge.
As your go-to custom framing experts, we're here to help you get started. Here are our tips for planning a gallery wall. And instead of just telling you the steps, I'm going to walk you through how I helped Cari from @lovinglittlehalls plan her gorgeous bedroom gallery wall.
Find Inspiration
Knowing what you like and especially what you don't like is an important step in the gallery wall planning process. With so many different styles and layouts, it helps to narrow down things like your photos and art and your ideal layout style.
The best places to find inspiration are Pinterest and Instagram. Look for things like layout, frame styles and print ideas. These inspiration examples will help guide you throughout the process.
For Cari's gallery wall, she liked the layout presented by the Etsy shop she purchased her prints from. Seeing how North Prints showcased the set of vintage art printables together helped us plan the layout and pair the prints with frames.
Create a Moodboard
Once you have an idea for the overall configuration and style, start pulling in the images, colors, mouldings and mats you'd like to incorporate into your gallery wall. Seeing all the details together on one page will help you finalize your vision.
Your moodboard doesn't have to be pretty or fancy. It just helps to see the prints, the frames and the colors all together visually.
Here's a look at the moodboard for Cari's gallery wall. I took the gallery sets she had from North Prints and sandwiched them together to get a loose first pass at the layout. I pulled images from our product pages to show the details of the moudlings. Lastly, I photoshopped some mouldings onto the prints to get an idea of how the styles coordinated together and with the prints.
We chose our Palazzo, Liscio Argeto and Adair mouldings for this gallery wall.
Plan Your Layout
The easiest way to plan your layout is to take a picture of the wall and add the images and frames digitally. Again, it doesn't have to be pretty or realistic but the closer you can get to the right scale of frame sizes on your wall the better.
Once you have the image uploaded, you can take screenshots of your images and frames and start moving them around until you find a gallery wall layout that you like. The more time you spend on planning here, the easier it will be to both order and hang your gallery wall.
Cari and I went back and forth several times to figure out the layout of her gallery wall. We swapped frame styles and images sizes. We moved the prints around to find the right balance. With so much room on her bedroom wall to play with, we used it to our full advantage. We sized and spaced the frames to essentially cover the area from bed level to curtain rod height.
After we decided on the frame sizes and configurations, Cari cut out paper templates for each frame. She used our mockups to confirm that the sizing and spacing were perfect before we placed the order.
Once Cari received her frames, we ended up making some last-minute changes. Seeing the frames together in the configuration we planned out, we were able to spot some areas of improvement.
Hang Your Frames
Creating a mockup of your gallery wall layout on your wall is great for more than just planning reasons. It acts as a blueprint or map to help you hang your frames. Having your mockup printed out or on a screen nearby will help make hanging your frames a breeze.
If you have the space, layout the frames on the floor or a surface so you can easily transfer them to the wall. Start with the center of your gallery wall and work from there. You can check out our gallery wall hanging tips for more information on hanging your frames.
Since she didn't have to worry about perfect spacing or straight lines, Cari was able to use our updated mockup to eyeball the placement of her eclectic gallery wall. With sawtooth hangers, she was able to translate the gallery wall from her screen to reality. Check out our picture frame hanging tips to make your picture hanging experience easier!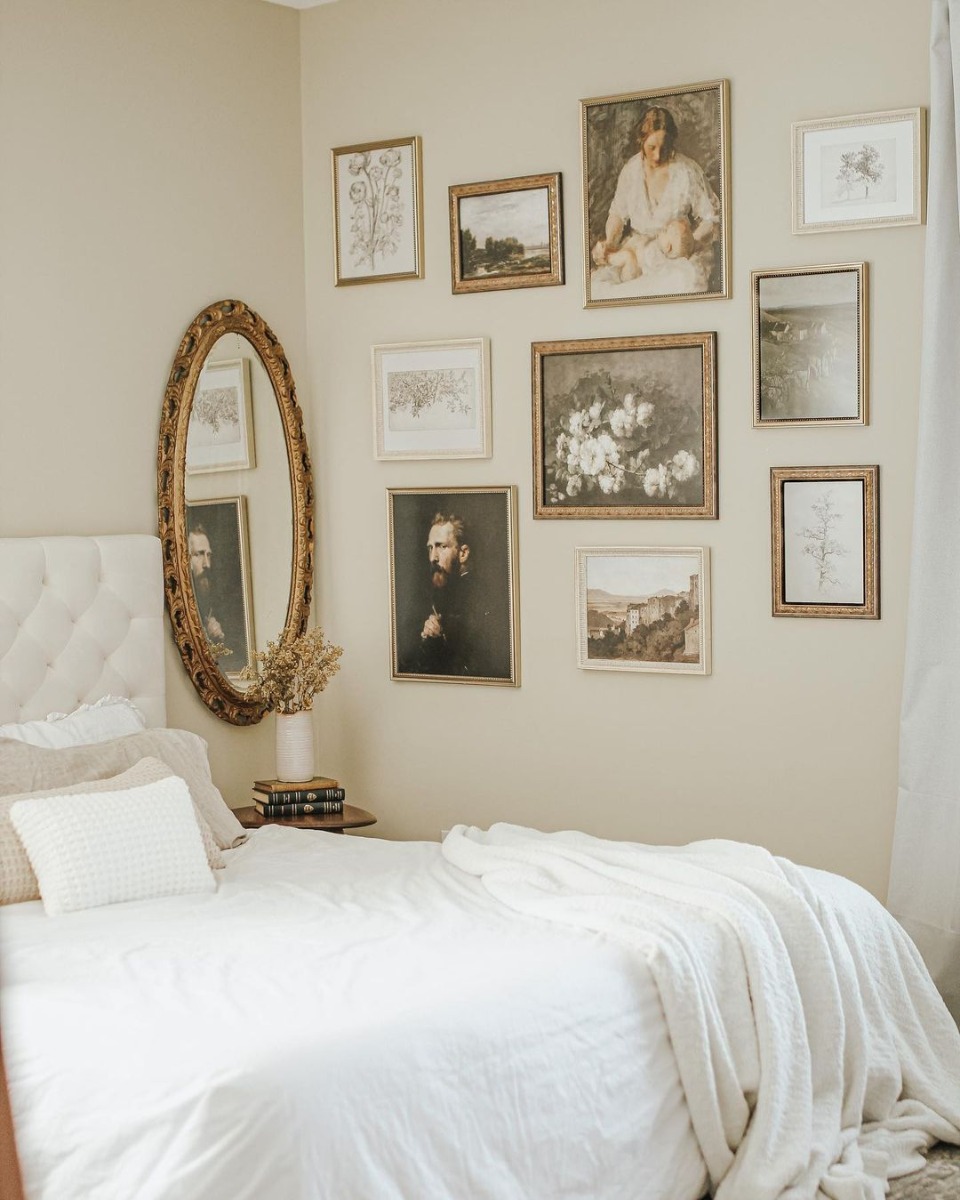 And voila! The gallery wall is complete.
Let's recap
We found inspiration for the frames and layout from the Etsy print shop she found her prints from.

We created a moodboard compiling all the prints and frames that we thought would look great in her space.

We used her real wall to mockup different layouts and configurations to make sure our vision would look right at home in her bedroom.

We cut out templates for the frames to make sure the sizing was correct before ordering.

We made last-minute adjustments after seeing the frames together.

We used the mockup as a blueprint to hang the frames on the wall.
The process of planning a gallery wall can be a long one, but in the end, it's time well spent. If you're in need of some gallery wall advice, contact us.
Thank you @lovinglittlehalls for your trust, assistance and patience in this planning process!
---
About The Author
| | |
| --- | --- |
| | Brittany DeMauro is the Creative Director here at CustomPictureFrames.com. With a background in creative writing and a passion for all things DIY, you'll find her in the shop crafting content. She can always find space for a fun gallery wall and loves discovering new artists to display around her home (in custom frames, of course!) When she's not creating content for our brand, she can most likely be found binging shows on Netflix with her two cats. |